As a cyclist, I am always on the lookout for new and exciting trails to explore. And if you're looking for an adventure that combines stunning natural beauty with a thrilling ride, then you should definitely check out the Great Lake Trail in New Zealand.
The Great Lake Trail is a 71-kilometre trail that winds its way around the shores of Lake Taupo, one of New Zealand's largest and most beautiful lakes. The trail is divided into several sections, but in this post, I will be focusing on the Western Bay section and the Kinloch area.
The Great Lake Trail is Grade 2 to 3. It has a number of places where there are tight bends, both uphill and downhill. These can be tricky for inexperienced riders, especially on bikes with a long wheelbase.
The Western Bay section of the Great Lake Trail is called Waihaha and has two sections, one at 13 km and one at 17kms. These offer several fantastic views of the lake, especially to the south and the volcanic peaks of the Tongoriro National Park. Note these trails are two-way and there can be dog walkers on them. You should be able to ride up to grade 3 to ride these tracks.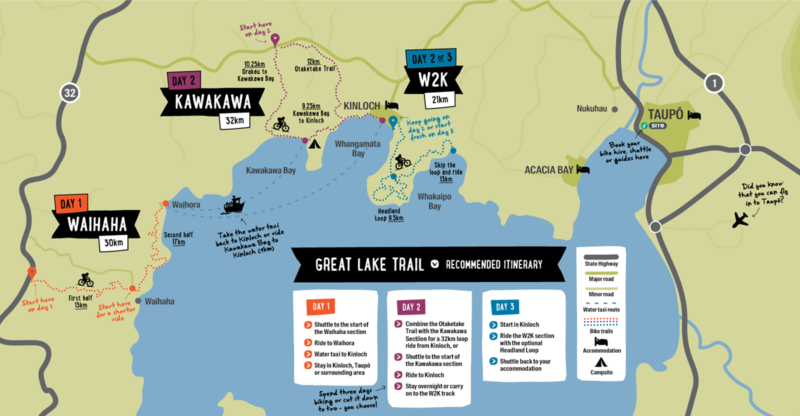 The northern section of the Great Lake Trails can be accessed from the picturesque town of Kinloch. This section can be ridden as a loop using the Otaketake, Orakau and Kawakawa Bay tracks in that order (see the crimson loop in the map above). The Orakau trail is a gradual downhill trail that takes you through native wetlands before arriving into the secluded Kawakawa Bay. Both tracks offer stunning views of the lake and the surrounding countryside, and the grade is considered moderate, ranging from 2 to 3.
The eastern section, from Kinloch to Whakaipo Bay, also offers great riding and views, especially the Headland Loop track, see the blue trail above).
The video below shows a 68 km figure eight path with 1300 metres gain – starting a returning to Kinloch – that a rider could use independent of any transport assistance. It uses two road stages (hi-viz recommended), whereas now you could use the Otaketake track.
The Kinloch area of the trail is equally impressive. Located on the western side of the lake, Kinloch is a charming settlement that serves as a starting point for many cyclists (car parking opposite the marina). From here, you can take a boat ride across the lake to the Waihora Bay area and continue your ride on the Waihaha track.
If you're planning on riding the Great Lake Trail, then a stop at the Kinloch General Store is a must. Here, you can refuel with delicious espresso coffee, slices, and sandwiches. And if you're in need of supplies, the store has a well-stocked grocery section too. There is a Volcanic coffee cart in the marina carpark too.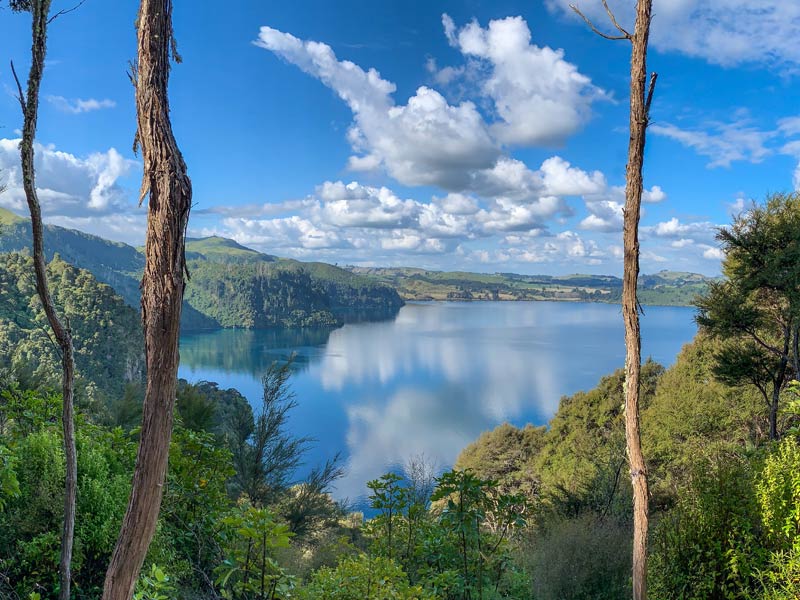 The nearest large town to the Great Lake Trail is Taupo, which is about 20 kilometres away. Taupo has a wide range of accommodation options to suit all budgets, from backpacker hostels to luxury resorts. So whether you're looking for a cozy B&B or a spacious hotel room, you're sure to find something that fits your needs in Taupo. Ditto hot pools; the children-free Wairakei Terraces or the family-friendly DeBretts Hotel.
The Great Lake Trail is a must-ride for any off-road cycling enthusiast – a word of warning though – it can be slippery when wet, so make sure you soften off your tyre pressure and have plenty of tread on those tyres. With its stunning scenery, challenging terrain, and charming settlements, it's no wonder that this trail is considered one of New Zealand's "great rides". So pack your bags, grab your bike, and get ready for an adventure you'll never forget!
Support a
Great NZ Cycle Path
EVERY 50 SIGN UPS GIVE $100 TO A TRAIL BUILDER IN NZ